Cities and Towns
Next Step LivingTM's community programs enable our city and town partners to achieve often hard-to-reach savings in their residential building stock. Our programs connect residents directly to government and utility incentives through services delivered by Next Step LivingTM and other local contractors. To attract residents to the program, we work with municipal leadership and local volunteers to design and implement impactful awareness and action campaigns that meet the unique needs of the communities we serve. Our programs cost effectively leverage the local trusted institutions and networks through which community members already share information.
Through these partnerships, we have led multiple successful energy efficiency programs that have reached tens of thousands of residents.  Most of our programs require little or no funding from our partner cities. Because we handle the entire intake, qualifying, scheduling and service there is often no additional constituent services investment necessary by the municipal staff.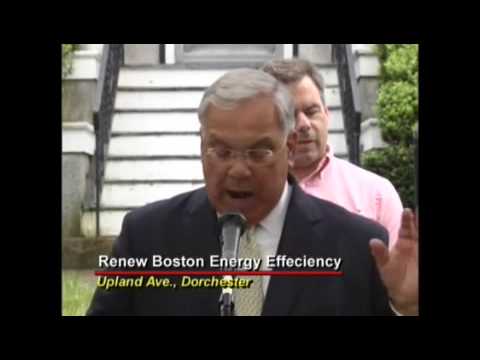 Boston Mayor Thomas Menino explains the goals of Renew Boston.
In partnership with the City of Boston Next Step LivingTM successfully implemented the American Reinvestment and Recovery Act funded Renew Boston program that helped 6,000 homeowners lower their bills in 2011 alone. Not only do these programs reduce the utility bills of residents, they also help create jobs, and allow municipalities to achieve their green house gas reduction goals. If you would like to learn more about our municipal and community programs, please feel free to contact:
Travis Estes
Director of Community Programs
405-415-5522
travis.estes@nextstepliving.com